In August 2012 we set up our very own powder-coating line. Having control over the quality has created some exciting opportunities for us and in turn you.
Click image to view pdf.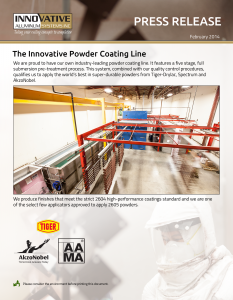 Check out a video of our full-submersion pre-treatment in action:

If you have any questions, please do not hesitate to ask!
Kind regards,
Mike Victory
Business Development
Innovative Aluminum Systems Inc.
Direct: 604-626-4373
Toll-Free: +1-877-724-5427
Fax: +1-604-626-4372
mike@innovativealuminum.com